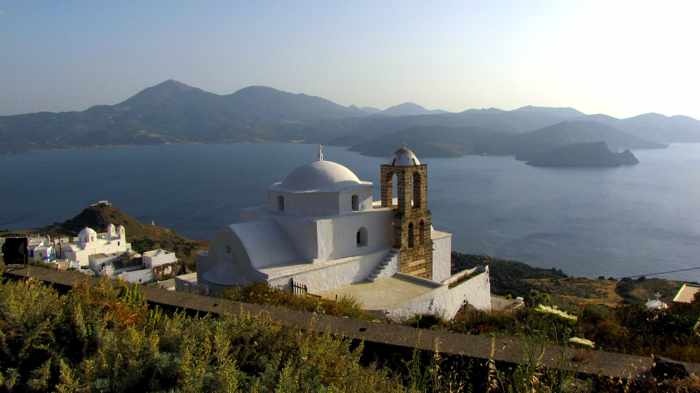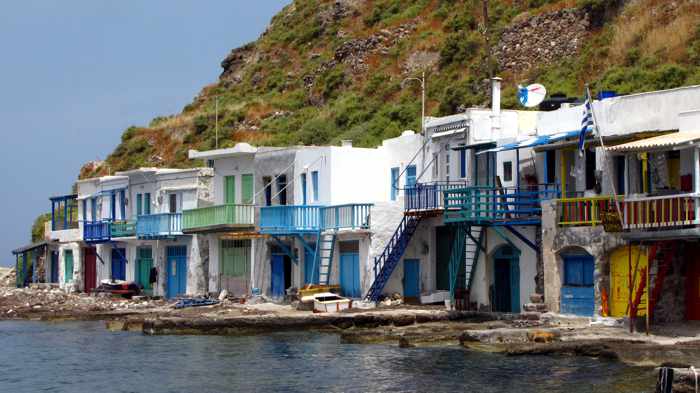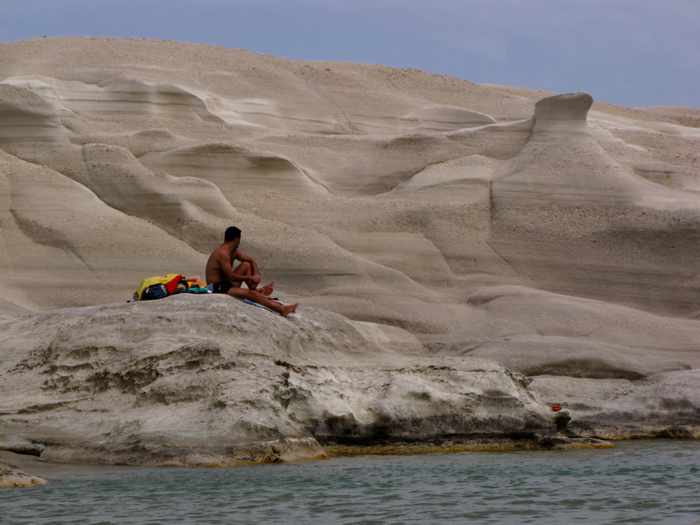 Our own photos of three Milos island landmarks: the Panagia Thalassitra Church at Plaka village (top), colourful boathouses at the Klima fishing settlement, and  the surreal coastal rock formations at Sarakiniko
Milos's moment: 2021 has been quite the momentous year for Milos, with unparalleled international publicity planting the island firmly into the minds and onto the bucket-list travel maps of millions of holiday-hungry people around the globe.
We told you this was coming.
In our blog post  Much ado about Milos four years ago (August 2017, to be precise), we described a noteworthy surge in interest in Milos, and we predicted its popularity would soar.
This year, despite the Covid-19 pandemic, that's exactly what happened: Milos was the Greek island people everywhere were taking note of, talking about, and visiting in person either for vacations or for corporate marketing photography and film shoots.
It wasn't just travel blogs, vlogs and websites singing the island's praises — Milos was the focus of attention in advertising campaigns for clothing, coffee and luxury goods;  social media posts by music and television stars; architecture and design publications; luxury hotel review websites; business and lifestyle magazines, and more.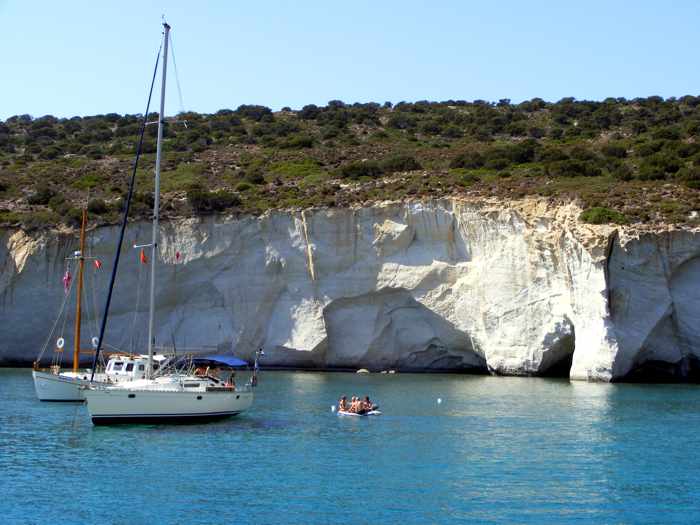 Once a hideaway for pirates, the coastal cliffs and caves at Kleftiko are now a popular stop for Milos sailboat tours
Among the Milos milestones of 2021:
♦ Readers of the most-read American travel magazine voted Milos the "No. 1 island in the world" as well as best island in Europe;
♦ One of the world's best-selling music artists visited in the spring and posted photos from the island's capital and one of its picturesque fishing villages to Instagram, where his account is actively followed by more than 200 million people;
♦ Its exquisite coastal scenery stole the show in major promotional campaigns for three of the world's pre-eminent luxury fashion brands;
♦ The island played a starring role in a television advertising campaign for a popular coffee retailer;
♦ Architecture and home design magazines drew attention to Milos with profiles of a  contemporary "corral" residence ingeniously built to blend seamlessly into the island landscape;
♦ Hotel review websites trumpeted the arrival of two brand-new luxury accommodations that opened in June;
♦ International publications and leading travel blogs published laudatory profiles of the island's appealing scenic attributes and attractions, and
♦ top travel vloggers enthralled YouTube watchers with videos spotlighting key Milos attractions and the splendid natural scenery.
To see how and where Milos has made such an indelible impression this year, keep scrolling down through this post to view a wide-ranging collection of the feature stories and videos of the island that have appeared in mainstream and social media this year. If you haven't been to Milos before, the images will show what all the fuss is about — and why so many travel writers and videographers think you should pay it a visit soon.
Besides screenshots of the articles and reports, we have provided links to the publications and video producers so you can read and view more of Milos, and obtain additional information to decide if it's the right place for you and your family to spend some vacation time. With scores of enticing photos and videos plus a plethora of practical information and travel tips, the links will be useful to bookmark for travel inspiration and holiday planning. 
Given the vast range of insights, opinions and perspectives provided by these different resources — including tips on times of day to see certain places, how to get there, what not to miss or what to to know before you go — this compendium could well become your ultimate travel guide to Milos.
But don't wait too long! As some of the writers and vloggers point out, the island's popularity is skyrocketing — so it's best to see this off-the-beaten-path gem soon, before it becomes a busy mainstream holiday destination.
— Milos on magazine covers —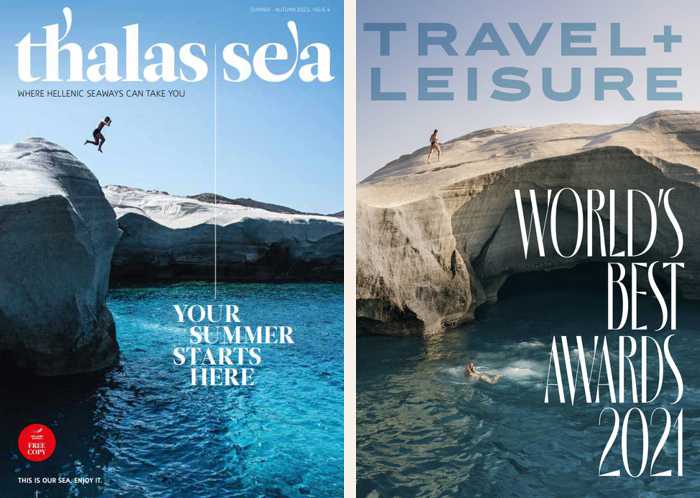 Photos of Sarakiniko — the Instagram-famous "moonscape" beach and coastline on Milos — were prominently featured on the covers of Thalassea and Travel + Leisure magazines
Milos received cover treatment from Thalassea, the official magazine for Greek ferry company Hellenic Seaways, as well as Travel + Leisure, the most widely-circulated American travel magazine with nearly 5 million monthly readers. The front pages of both featured picture's of the island's renowned cliff-jumping spot, Sarakiniko.
Inside Thalassea, a two-page aerial photo of Sarakiniko illustrates the magazine's "Reasons to Go" to Milos article.  "One look at Sarakiniko beach and you will be smitten for life," the text reads, adding: "this is an island far out of the ordinary."
You can find the article at pages 96-97 in the Summer/Autumn 2021 issue of Thalassea.
Meanwhile, the cover image for the October 2021 Travel + Leisure acknowledged Milos's great success in the magazine's Annual Reader's Awards, which voted Milos as not only the best island in Europe, but also the No. 1 island in the entire world. (More on those accolades below.)
— Travel + Leisure readers' best island awards —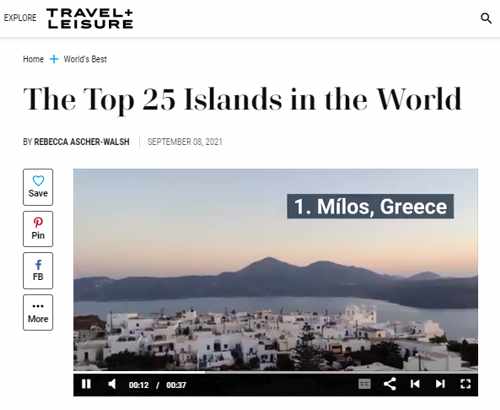 Travel + Leisure readers honoured Milos by voting it the No. 1 island in the world this year
We weren't surprised when we learned Milos has been voted top island in the world by readers of Travel + Leisure magazine. We've been there twice, and know from personal experience why people enjoy it so much.
The voting took place from mid-January to early May of this year, and the magazine said participating readers "rated islands according to their activities and sights, natural attractions and beaches, food, friendliness, and overall value."
To find out why Milos nabbed top honours, take a look at the short blurb in the T + L article The Top 25 islands in the world.
Milos had good company in the rankings, by the way. One of its close neighbours, Folegandros, earned the No. 2 spot, while perenially-popular Santorini took 13th place.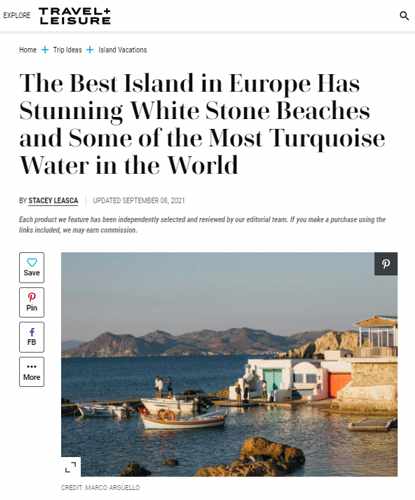 Milos was "a closely guarded utopia," writer Stacey Leasca says, until word got around that Travel + Leisure readers had voted it the best island in Europe and the world
In the wake of announcing that its readers had voted Milos as best island in Europe, and in the world,  Travel +Leisure published a report in which writer Stacey Leasca recounted her 3-day visit there in June.
Upon arrival, she recalls, it was "easy to see why previous travelers and locals alike would want to keep this place under wraps. Its rocky shoreline gives way to some of the most pristine crystal-blue waters I have ever laid eyes on. Its landscape is one sweeping hillside after another, dotted only by sparse vegetation, white-washed homes, blue-roofed churches, and a rogue goat or two. And its food is divine."
Though their visit lasted only 72 hours, Leasca and her travel companion managed to see numerous key attractions including the port town of Adamantas, the villages of Plaka and Klima, the beaches Sarakiniko and Papafragas, the ancient catacombs, and others.
To see why she says "take T+L readers' advice and go to Milos," read her report The best island in Europe has stunning white stone beaches and some of the most turquoise water in the world.
— Justin Bieber's Milos visit —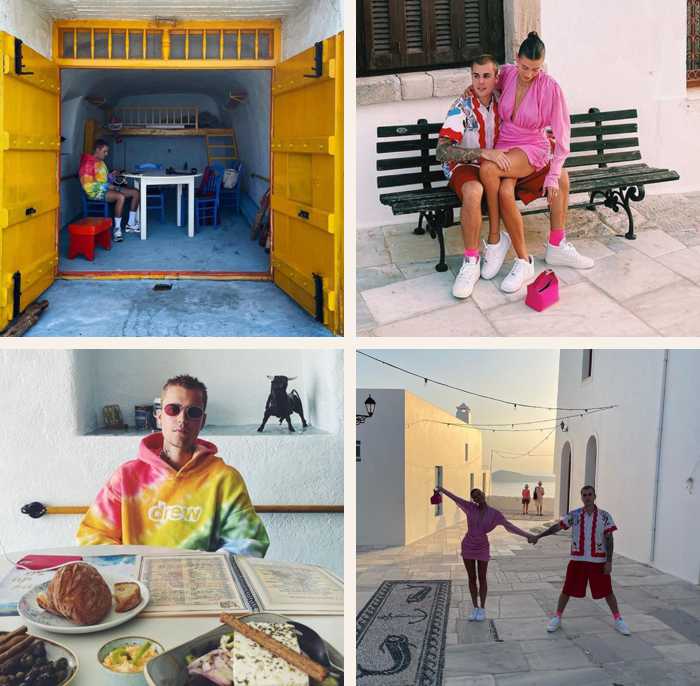 In photos shared with his 200 million fans on Instagram, singing superstar Justin Bieber is seen in a private boathouse dining room at Medusa cafe-restaurant in Mandrakia (left) and with his wife, Hailey, in Plaka village
Popular entertainers, movie stars and professional athletes wield incredible influence over consumer spending habits, which is why companies pay celebrities big bucks to endorse or advertise their products.  We can't help but speculate on the value of the publicity that Milos received — for free –when international music superstar Justin Bieber shared photos from the island on his Instagram page in late June. Considering that the Canadian-born singer counts more than 205 million followers on Instagram, he brought Milos to the attention of an enormous audience of potential travellers, many of whom had probably not even heard of the island before.
Bieber's private yacht cruise to the Cyclades islands was reported by media around the world, with some of the Greece-based reports  about his Milos visit including:
♦ the June 29 Greece Is magazine article Justin Bieber cruises the Aegean and feasts on sardines,
♦ the June 28 Greek City Times story Justin Bieber and his wife Hailey getaway to Greece in Milos.
♦ the June 29 2021 Greek Reporter article Justin Bieber's new friendship with a 70-year-old Greek fisherman
♦  Justin Bieber went on vacation to Milos  and loved sardines, published June 28 by the Athens Voice Look mag
We think Bieber deserves some credit if there's any bump in tourist traffic to Milos in the next year or two, and we're pretty certain Medusa restaurant will top traveller lists of must-visit places to eat, as well — thanks to the Bieb's headline-making lunch there. But he can't take all the credit: Medusa gets more shout-outs from travel bloggers and vloggers in some of the reports and videos you'll see below.
Between June 26 and 29, the singer posted posted from Milos and the Cyclades to the official Justin Bieber Instagram page, while he shared two images on the Justin Bieber Facebook page — which has 91 million followers — on June 28 and 30.
— Pedro Alonso's Milos visit —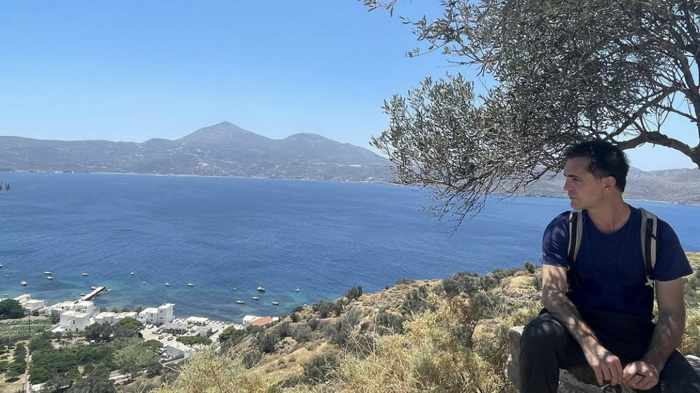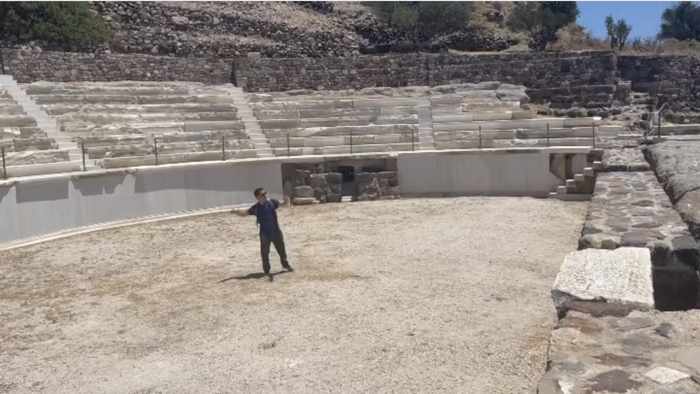 Actor Pedro Alonso gazes across Milos from a hillside vantage point (top) after reading a monologue from a Spanish play in the island's ancient open-air theatre (seen in this screen capture from an Instagram video of his impromptu performance).
About a week after Justin Bieber moved on from Milos, popular Spanish actor Pedro Alonso arrived for his Greek holiday.  Alonso is perhaps best known for playing the character "Berlin" in 36 episodes of the Netflix television series Money Heist, from 2017 to 2021.
On July 8, Alonso posted a video and several photos shot on Milos to his Instagram, which has more than 9.1 million followers. The video shows the actor at the island's Ancient Theatre, reciting a monologue by the character Rosaura in the Pedro Calderon de la Barca dramatic play La vida es sueño. The photos included a shot of Alonso sitting at a lookout spot near the theatre, and a view of the seaside village of Klima.
The actor's visit to Milos and Athens was described in the July 11 2021 Greek Reporter article 'Money Heist' actor Pedro Alonso mesmerized by Greece.
The acting monologue video and five photos can be viewed on the pedroalonsoochoro page on Instagram.
— Fashion campaigns filmed on Milos —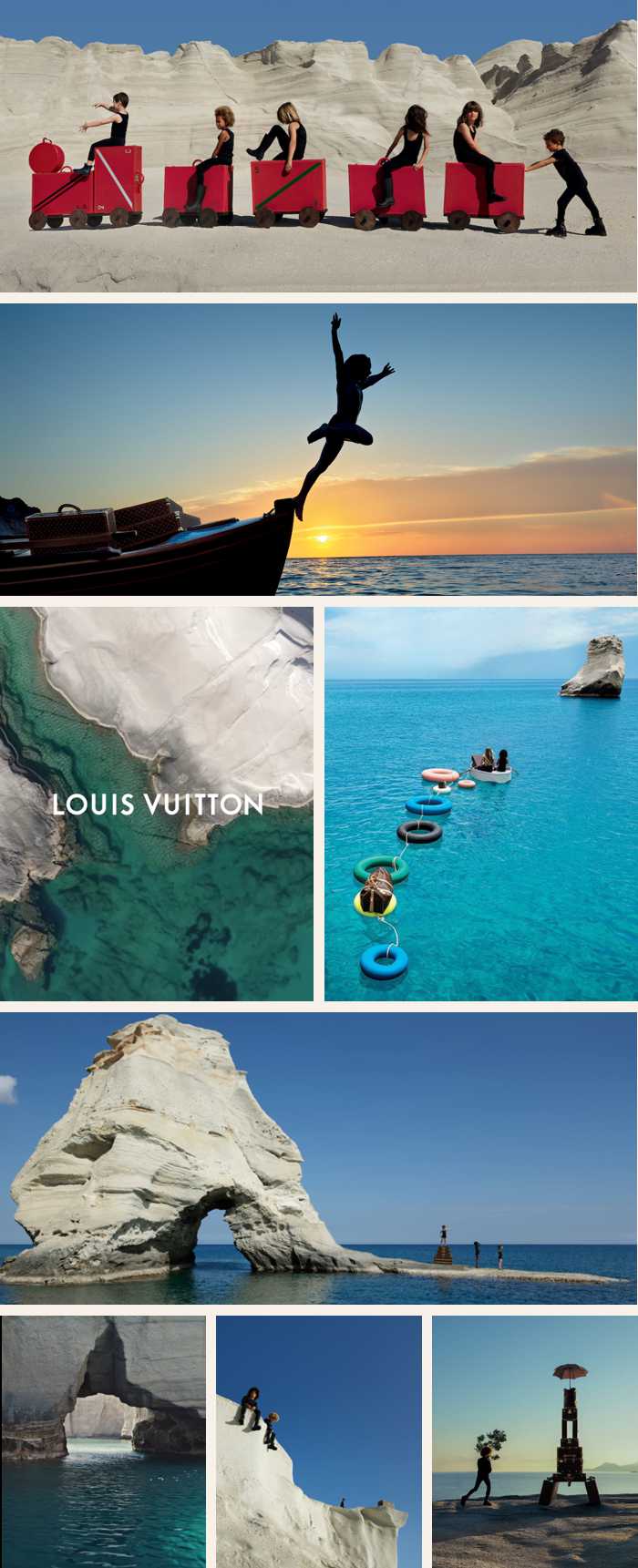 A Louis Vuitton promotional campaign spotlighted scenery on the Sarakiniko and Kleftiko coasts of Milos
Milos was one of two "dreamlike settings" that the iconic luxury brand Louis Vuitton selected as a filming location for its  2021 Towards a Dream advertising campaign (the other site was Jordan). Photo shoots took place at Sarakiniko beach and the Kleftiko coast, where photographer Viviane Sassen captured "spirit of travel" images that the company calls "an evocative ode to the inner child, set free in a reverie of otherworldly beauty and infinite possibility."
"Rich in ancient history, the Greek island of Milos beckons to a group of children, inviting them to play among its stark shores and pristine waters. With their innocent curiosity, their silhouettes emerge from the landscape to convey a limitless sense of optimism and freedom," says a description of the photoshoot theme.
You can view the full-size promotional photos and a short video at the Towards a Dream campaign page on the Louis Vuitton website.
Photos and videos also were posted between September 16 and 19 on the official Louis Vuitton Instagram page, which boasts more than 46.4 million followers.
Photos and a link to the Towards a Dream campaign also were posted September 17 to the Louis Vuitton Facebook page, which counts more than 24 million followers.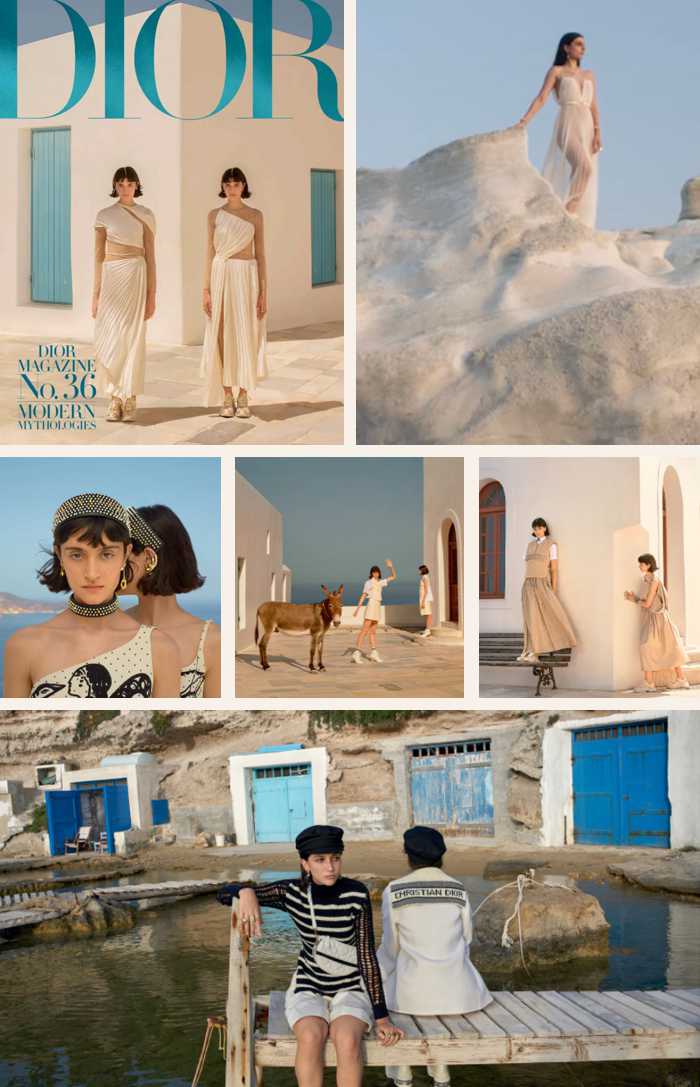 Scenes from Plaka, Sarakiniko and Mandrakia figure prominently in photos shot on Milos for the Dior 2022 Cruise Collection (above), while a 3-minute video (below) offers a behind-the-scenes look at the Dior Magazine photo project. It includes commentary by some of the photographers along with views of magnificent Milos landscapes and the Temple of Poseidon at Sounion.
Another legendary fashion house, Dior, chose Milos as one of the principal shooting locales for its 2022 cruisewear collection and Dior Magazine Issue 36 (some filming also took place in Athens and at the historic Temple of Poseidon at Cape Sounion).
The cruise fashions were designed by Maria Grazia Chiuri, who found inspiration in "classical Greece and mythical female goddesses and divinities." It was only fitting, then, that Dior photographed its models at ancient Greek ruins and mesmerizing island landscapes.
For this campaign, Dior invited ten Greek photographers — Mara Desipris, Christina Dimitriadis, Marilia Fotopoulou, Efi Gousi, Maria Koutroumpi, Dimitra Lazaridou, Ria Mort, Lia Nalbantidou, Ioanna Sakellaraki, and Olga Stefatou–  to capture their personal visions of the cruise collection's apparel and accessories. You can read a description of the project and see some of the photos shot by all 10 women on the Captivating Visions  page of the Dior website.
Campaign photos and videos also were posted in late November to the official Dior Instagram page, which has more than 38.3 million followers, and to the Dior page on Facebook, which reaches more than 18 million followers.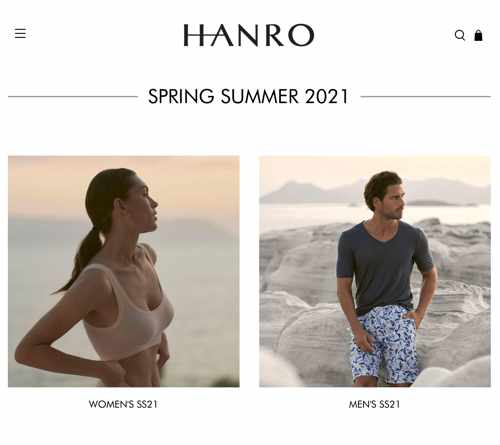 Milos also was the shooting location for HANRO's spring/summer clothing campaign 
Constant change and tumultuous current events have had a huge impact on society and individuals, leading many people to reassess their personal priorities and redefine what they consider quality of life. HANRO, a 130-year-old firm known for its fine men's and women's daywear, loungewear and nightwear, seized upon the global trend to "recharge" and  "reset" when it chose Milos as the shooting location for its spring/summer 2021 fashion campaign.
"One place that is the perfect setting for ultimate relaxation and revitalizing the soul is in the Greek island of Milos," says a description of the HANRO marketing program.
"Unassuming and sublime, [Milos] defies the forces of nature and shows us just how much beauty can emanate from constant change. Every gust of wind dances differently on the sea; every wave traces new patterns as it laps on the sand. Each ray of sunlight changes the kaleidoscope of colours and the spirit of nature. The soft sandstone and volcanic rock is constantly sculpted by the wind. Nothing is ever the same as the day before, and yet this transience harbors a great sense of calmness and strength. It teaches us to appreciate the here and now, to live in the moment, and to simply exhale and let go."
In contrast to its dominant role in the Louis Vuitton images, the Milos scenery provides a much more subtle backdrop for photos of the HANRO models, but looks inviting nonetheless. Photos and a promotional video can be viewed on the Spring Summer 2021 campaign page of the HANRO website.
— Nescafe television ad —

Greek actor Giorgos Lianos appears in a television ad for Nescafe coffee
Milos was the sun-soaked filming location for the light-hearted Nescafe Greece television campaign "Make your summer count," featuring actor Giorgos Lianos.
The ad was filmed at various locations across Milos, with Sarakiniko beach making the most appearances in the minute-long clip. And, yes, the commercial includes scenes of people jumping into the sea from the Sarakiniko cliffs while Lianos stands on the edge and watches, with a Nescafe frappe in hand.
— Magazine profiles of Milos —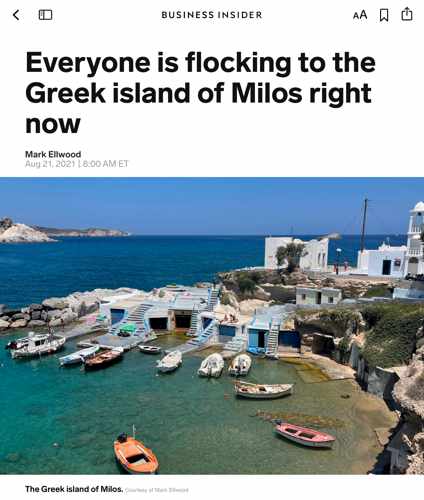 The Mandrakia fishing settlement is seen in a photo journalist Mark Ellwood shot for a Business Insider report on Milos's rising popularity
Milos made headlines in Business Insider magazine, which reaches 23 million influential readers. In a report published in late August, writer Mark Ellwood notes that the Greek islands were a top destination for tourists seeking a holiday break during the ongoing Covid pandemic. But Milos appears to be attracting additional attention this year, he says. Like better-known Greek islands, Milos "has seemed both safe and accessible. For its extra buzz, though, credit a combination of the mines, the media, and Mediterranean yacht culture," Ellwood observes.
Milos had a long mining history thanks to its mineral-rich volcanic geology, which blessed the island with unbelievably colourful cliffs, coastlines and beaches  — a huge draw for Instagrammers and fashion photographers seeking unusual and exotic landscapes for their photo and video shoots. As Ellwood notes, "Its Insta-ready landscape is a viral-marketing asset for models and brands." And since many of the striking landscapes are best viewed from the sea, Milos has become "a must-stop on Mediterranean yachting itineraries."
Ellwood interviews local entrepreneurs, travel experts and top influencers to learn more about why Milos has become such a desirable destination, particularly for premium travellers.
Read what they had to say in his insightful report, Everyone is flocking to the Greek island of Milos right now.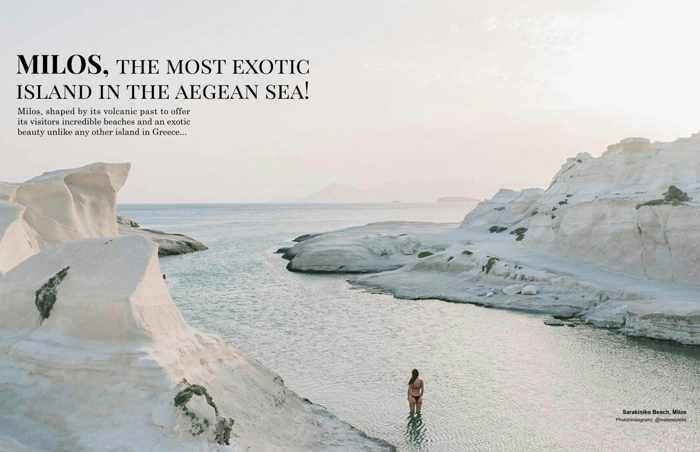 A scene from Sarakiniko beach illustrates a feature story on Milos in the digital magazine 500 Best Hotels Greece
"Milos is a phenomenon of colours, architecture, natural beauty, geology, history and culture, tradition," notes a feature article published in the spring/summer edition of 500 Best Hotels Greece.
The 15-page piece provides interesting details and descriptions of the island's villages and its myriad beautiful landscapes and natural attractions, including beaches and coastal areas. The article is informative, but worth checking out simply to have a look at the nearly three dozen gorgeous photos that accompany the text. The magazine asserts that Milos is a "dazzlingly beautiful island," and the images conclusively support that claim.
The article is free to read in a digital version on the 500 Best Hotels Greece website.
The story and full edition of the magazine can also be read in the 500 Best Hotels Greece Issue No. 4 version on the Issuu.com app.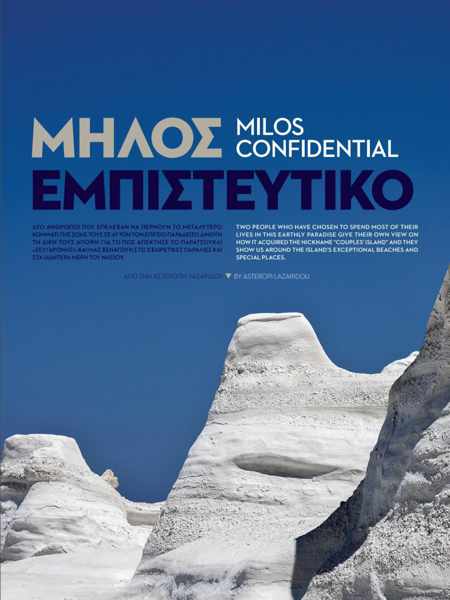 A Sarakiniko landscape scene illustrates a Milos article that appeared in summer edition of  Minoan Wave magazine, published by Greek ferry company Minoan Lines.
For her Minoan Wave magazine article Milos Confidential, writer Asteropi Lazaridou spoke to two Milos residents to get local insights into the island's "exceptional beaches and special places."
Emmanouela Kaoustou, owner of  the traditional products shop Milokipos, struggled to suggest a short-list of her five favourite beaches simply because the island has so many she likes, each one different from the other. "In general, this is one of the many positive things about Milos, it has countless beaches, small unspoilt spots, you have endless choices and you can find somewhere to be almost alone, even in high season," she says. Kaoustou also explains why Milos is often called "the ultimate island for couples."
Anastasis Karvounis, who manages accommodation rentals in various parts of the island, describes what visitors will discover during night walks in Adamantas and Plaka, and explains why "Milos is an island for foodies." He also talks about a personal favourite place on the island — "the abandoned sulfur mines and the magnificent beach that lies beneath them."
The article, along with half a dozen beautiful photos of Milos scenery, can be found at page 126 of the Minoan Wave 2021 digital edition on Issuu.com.
In July, the Travel.gr website published an easy-to-read Milos guide that suggests cool things to do and see, as well as places to eat and sleep
"Milos is an island that has it all: beaches of unbelievable beauty, eerie settings, catacombs, old pirate stories, volcanic craters, Cycladic hospitality, superb all-suite hotels, and a sensational sunset," writer Voula Akrivaki says in an introduction to a Milos guide she compiled for the Greece travel experience website Travel.gr (the piece was translated into English by George Kolyvas). "In an inexplicable way, the island has an immediate calming effect on visitors. It is home to Europe's biggest mineral mine and offers over 70 beaches capable of covering all moods and preferences," she adds.
The easy-to-read guide suggests things to do and places to see, with a specific section on where to swim, and also recommends notable restaurants and accommodation options.
The article includes a scenic 4.5-minute aerial video of top island attractions.
Milos: Island of contrasts and balance was published on July 6 2021.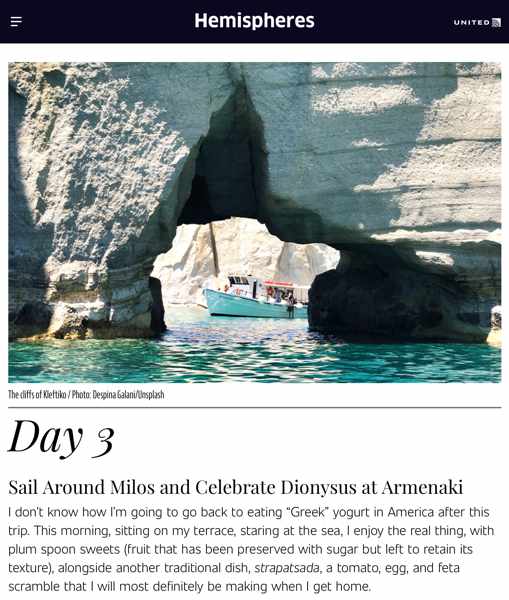 A sailboat excursion was one of the Milos highlights described in a trip report for the United Airlines magazine, Hemispheres 
Writer Ellen Carpenter paid a whirlwind visit to Athens and Milos to pen a "Three perfect days" feature article for Hemispheres, the on-board magazine of United Airlines.
We were amazed to read about all the places and things that Carpenter was able to see and do during her extremely limited time on Milos. Despite a late afternoon arrival by plane, she managed a visit to Sarakiniko and a dinner at O! Hamos in Adamas, where we've had superb meals ourselves.
The next day, she enjoyed a sailboat day tour with Thalassitra Sailing, which took passengers to Kalogries beach, Kleftiko, Tsigrado and Paleochori beaches, and Polyaigos island, passing Klima village on the return to Adamas. Carpenter's evening diversions included a tour and wine tasting at Kostantakis Winery followed by a delicious meal at Armenaki restaurant on the Pollonia village waterfront.
Although we recommend staying a minimum of three nights on Milos (we suggest planning for five or more), Carpenter's article shows just how much a visitor can see during a quick island hop when more time simply isn't available.
Carpenter's conclusion: "The Greek islands are more alluring than ever, and Milos, in particular, is seducing visitors with its siren song of serenity and otherworldly beauty. Heed the call."
Get the full details in her July 30 2021 report Three Perfect Days in Greece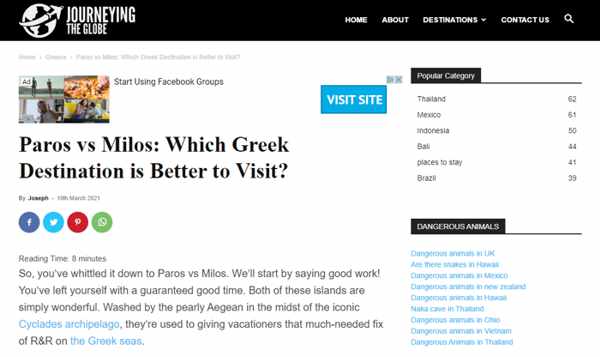 Journeying the Globe considers whether Milos or Paros is the "better" island to visit
The adventure travel blog Journeying the Globe pitted Paros against Milos for an interesting comparison piece in the spring.
In Paros vs Milos: Which Greek destination is better to visit, published March 19 2021, freelance writer Joseph examined similarities and contrasts between the two Cycladic islands based on important travel criteria such as price, food, accommodations, beaches, getting around, things to do, and "general vibe."
"Both of these islands are mega stunners," Joseph says.
But we won't be spoilers by revealing his conclusion as to which might be better than the other — we recommend you read Joe's post to see what he advises, and why.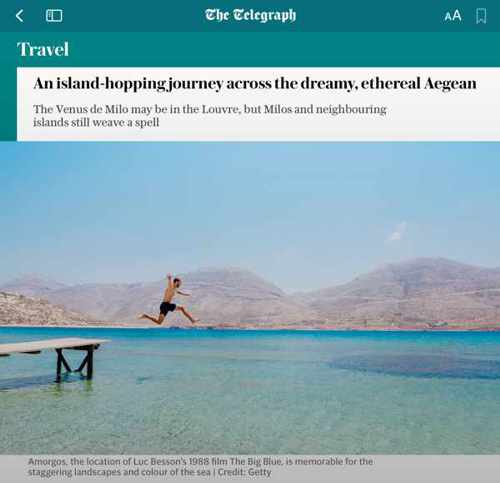 Milos was one of three spellbinding Cycladic islands profiled in an island-hopping article in The Telegraph
Milos was the first stop in a short summer island-hopping getaway by writer Michelle Jana Chan.
In a brief trip report for The Telegraph, she relates renting a car "to explore the seahorse-shaped island known for tales of unscrupulous pirates in centuries past," swimming and cliff-jumping at Sarakiniko, and visiting the place where the Venus de Milo sculpture was discovered.
Her easy-to-read article can be read in the August 8 2021 article An island-hopping journey across the dreamy, ethereal Aegean.
— Mini-guides recommending Milos —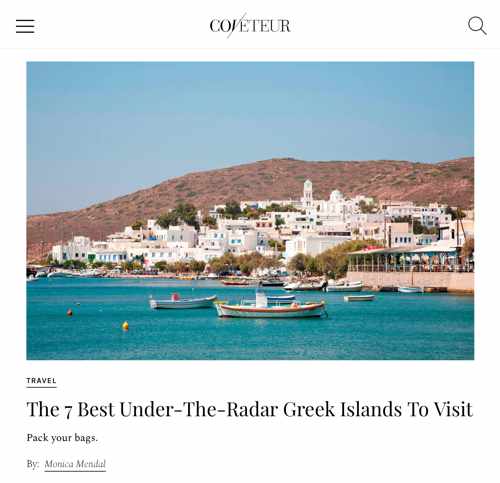 The Milos port town Adamantas (also known as Adamas) is seen in the lead photo for a Coveteur magazine mini-guide to the Cyclades islands
In July, lifestyle publication Coveteur magazine  cited Milos as one of  The 7 best under-the-radar Greek Islands to visit.
"Milos, in all of its rustic, small-town charm, is unanimously beloved by locals and visitors alike," says writer Monica Mendal.
Her mini island-hopping guide is a quick and easy read since each of the seven islands is described in a succinct one-paragraph blurb that suggests  top places to visit, dine and stay. But  it does confirm what others have been saying — Milos is one of the best lesser-known islands in the Cyclades, and offers a completely different holiday experience than the heavily-touristed Mykonos and Santorini.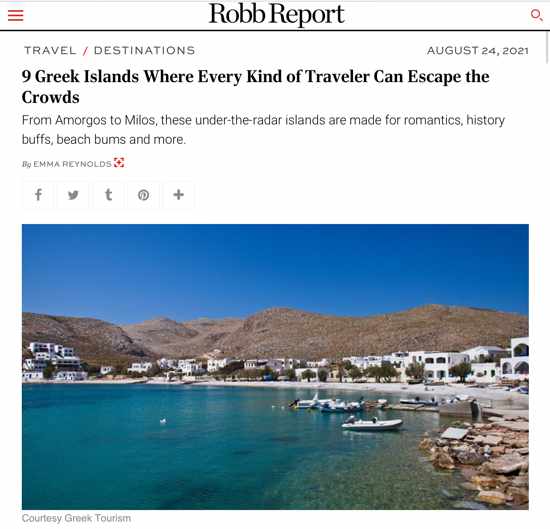 Robb Report recommends Milos for romance seekers
Milos made it onto another list of recommended Greek islands, this time in an August 24 article in Robb Report, a global luxury publication read by more than 571,000 high-net-worth people in 28 countries.
Penned by Emma Reynolds, the quick-to-read mini-guide suggests 9 Greek islands where every kind of traveler can escape the crowds.
Reynolds selected what she thought would be the best islands to visit based on specific personal travel preferences such as history, adventure, wellness, family time and more. In describing Milos as her choice as an ideal destination for romance, she explains why Milos is known as "the island for lovers," and advises where visitors can experience the island's "true spirit."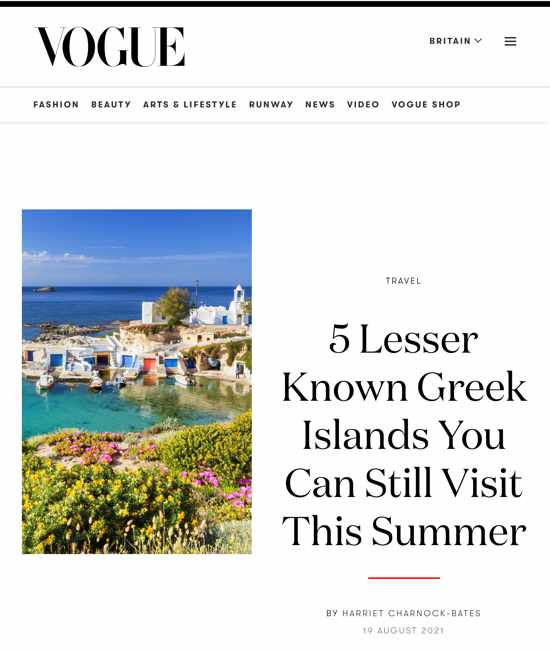 The postcard-pretty fishing settlement of Mandrakia is shown in the heading for a U.K. Vogue guide to Milos and four other islands
"A place of cliffs and higgledy-piggledy boathouses, there's an otherworldly allure at play here," writer Harriet Charnock-Bates says of Milos in her article 5 lesser known Greek islands you can still visit this summer, published August 19 in the British edition of Vogue magazine.
She short-lists unique beaches "worth writing home about," suggests how to enjoy "a superlative view of the coastline," and recommends where to go to "watch the sun melt into the Aegean."
— Travel blog articles —

The World Pursuit travel blog compiled a guide to  beaches, villages and other top attractions on Milos
Well-travelled digital nomads Natasha Alden and Cameron Seagle visited Milos for the first time this summer, and compiled a comprehensive travel guide for their website, The World Pursuit.
"Milos has everything you could want out of a trip to the Greek islands. Great food? Epic beaches? Amazing sunsets? Friendly people? Yup! All those things are what make Milos so special," says the introduction to the blog post 20 best things to do in Milos, Greece,  which was written by Natasha.
As expected, beaches figure prominently on their must-see list, but villages (including Mandrakia, where they stayed), sunset viewing spots, historic sites and day trips to nearby off-the-beaten path islands also made their top 20 round-up. As did Medusa, the restaurant where Justin Bieber popped in for his now-famous sardine lunch.
The World Pursuit guide includes a map and general information about transportation around the island, places to stay, and best times to visit. But what we enjoyed  the most were the gorgeous photos that illustrate the article.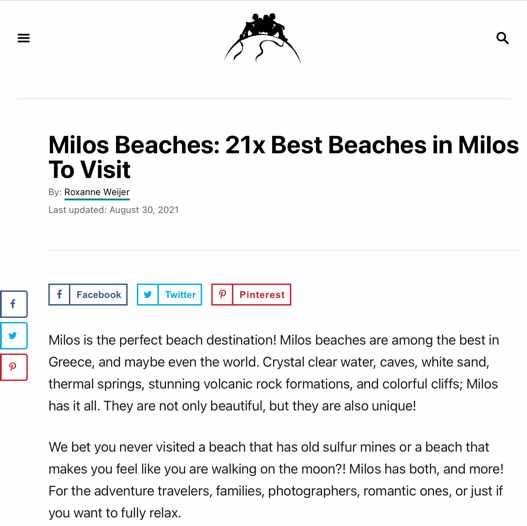 The Once Upon a Journey blog profiled the most famous as well as a few little-known beaches on Milos
Milos holds bragging rights to a staggering number of beaches — anywhere from 30 to 40, according to most travel publications, or as many as 84, a figure mentioned in the Hemispheres magazine article Three Perfect Days in Greece, which we showed you earlier in this post. Though the actual number may be open to question, travel experts do agree the island is blessed with an extensive variety of beaches — far more, in fact, than most visitors would ever have time to see (let alone find).
Yet, despite the staggering number of seaside spots to choose from, most travel writers tend to visit and refer to pretty much the same areas as everyone else: Sarakiniko, Tsigrado, Papafragas, Fyriplaka, Paleochori, Provatas, Firopotamos and Kleftiko. Those may be among the most popular and most-visited (no surprise there, since they get the most publicity), but there are so many other unique and interesting beaches waiting to be discovered. So we were happy to see that the Once Upon A Journey blog post 21x best beaches in Milos to visit recommended several of the less familiar but nonetheless splendid seasides.
The listing, by Dutch travel bloggers Maartje Hensen and Roxanne Weijer, is filled with terrific photos of the island's world-famous swimming spots as well as off-the-beaten path beaches and serene, secluded coves that can be reached only by boat. The accompanying text describes each place and indicates what, if any, facilities (beach beds, taverns, canteens) might be available for visitors.
We were glad that Maartje and Roxanne included the Sykia cave on their list; it was one of the two most memorable stops on our sailboat tour of Milos in 2007 (the other was Kleftiko), as well as one of the most amazing natural sights we have seen in all the Greek islands, yet it rarely appears on the radar for many bloggers and travel writers. (You can read about our own excursion, and see our photos from the cavern, in our blog post Our sailboat tour to Sykia and Kleftiko on Milos.)
— Architecture & design magazine profiles of Voronoi's Corrals on Milos —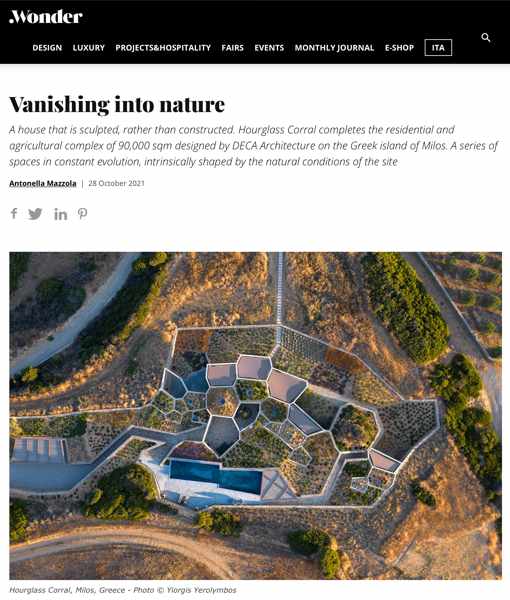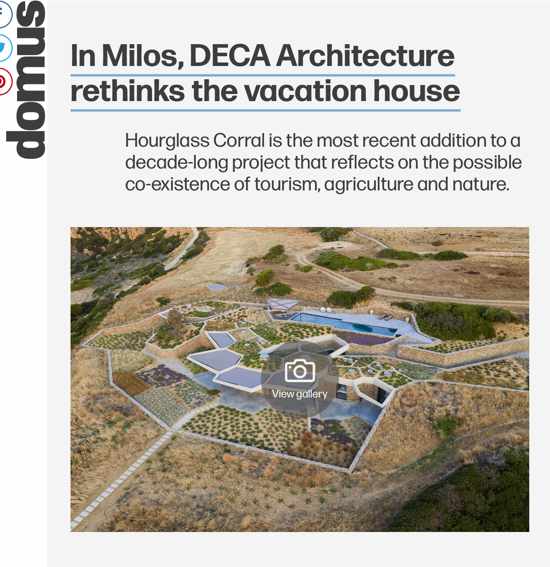 An astounding holiday home and agricultural complex on Milos enthralled the world's architecture and design communities in 2021. Two design publications, IFDM (top) and domus, profiled the project this year.
Milos came to the attention of architecture and home design enthusiasts and professionals when industry publications profiled Hourglass Corral / Voronoi's Corrals, an extraordinary holiday home and agricultural complex built into a hillside above the island's southern coast.
An award-winning design by Athens-based DECA Architecture, the project was completed in 2020 and attracted international publicity this year when building and design magazines published feature stories and photos of the amazing property.
A video presentation on the DECA website describes the remarkable project as a "residential landscape" that proposes "a new paradigm for sustainable development, where agricultural production co-exists harmoniously with inhabitation."
You can read about the project and view photos in:
♦ the October 28 2021 article Vanishing into Nature, published by IFDM | Furniture Interior Design Magazine; and
♦ the June 16 2021 feature In Milos, DECA Architecture rethinks the vacation house, published by the Italian architecture, design and art magazine domus.
Even better is the DECA Architecture website page for Voronoi's Corrals, which is chock full of information about the project as well as fabulous photos and videos of the property and its breathtaking location on Milos. The images and film offer incredible views of Milos you won't see in travel publications or blogger videos.
— Milos hotel profile & review articles —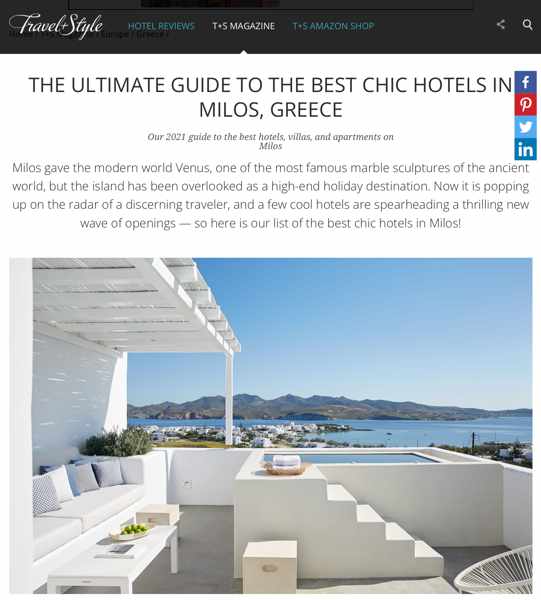 Hotel review site Travel + Style spotlights 21 cool places to stay on Milos — and gives honourable mention to two dozen others
Until just several years ago, travel writers often commented that one of the few drawbacks to visiting Milos was its rather limited range of accommodations, and its even scarcer supply of upscale digs.  As a consequence, Milos "has been overlooked as a high-end holiday destination," notes the luxury hotel review website Travel + Style, which is read by a well-travelled and affluent global audience.
But "discerning travellers" are now discovering Milos, thanks to a "thrilling new wave of cool hotel openings," the website says in its June 22 2021 feature story, The ultimate guide to the best chic hotels in Milos, Greece.
The article is illustrated with beautiful, dreamy photos that might give you the instant urge to pack your bags and book suites at one of the 21 highlighted hotels. The report also lists another two dozen accommodation properties that the website says are worth checking into. We found the pictures of views from the Milos Breeze and Aqua House to be the most appealing of the bunch, but we undoubtedly would be happy to stay at any of the places that made it onto the Travel + Style list.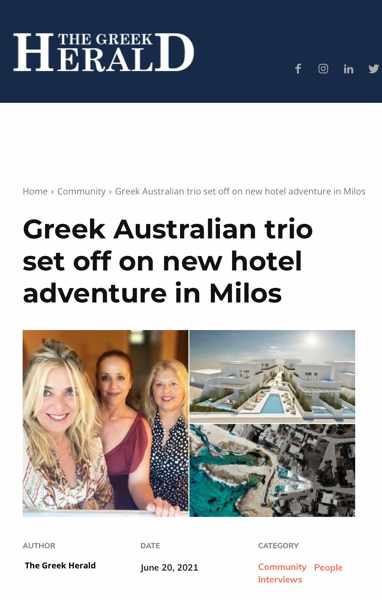 Australian newspaper The Greek Herald profiled three Greek-Australian women who opened the White Pebble Suites this year
One of the this year's new arrivals, White Pebble Suites, received widespread publicity and acclaim both before and after its official opening in mid-June.
Situated in Pollonia, the luxury boutique hotel was established by three Greek-Australian women — Lefka Georgantis, Helen Logas and Aphrodite Lambrou — who share backgrounds in the travel and hospitality sectors.
In the June 20 2021 article Greek Australian trio set off on new hotel adventure in Milos, The Greek Herald newspaper from Australia tells how the women brought their hotel project from just a dream to reality.
White Pebble Suites also caught the eye of the Danish design and interior company Tine K Home, whose website published the profile Hideaway on Milos, Greece's most photogenic island.
In July, the Greek travel, culture and lifestyle website Insights Greece wrote about White Pebble Suites in its article Stunning new boutique hotel opens in Milos.
The hotel also drew praise from Fodor's Travel, which ranked it as one of The ten dreamiest hotels in the Greek Islands. and from The Sunday Times, which listed it in the November 18 piece Best Greek island hotels.
And it was featured in the White Pebble Suites: Hotel in Pollonia profile on the hotel and travel website Stay Some Days.
You can see more of the hotel at its own web and social media links:
Website: White Pebble Suites
Instagram: @whitepebblesuites
Facebook: @whitepebblesuites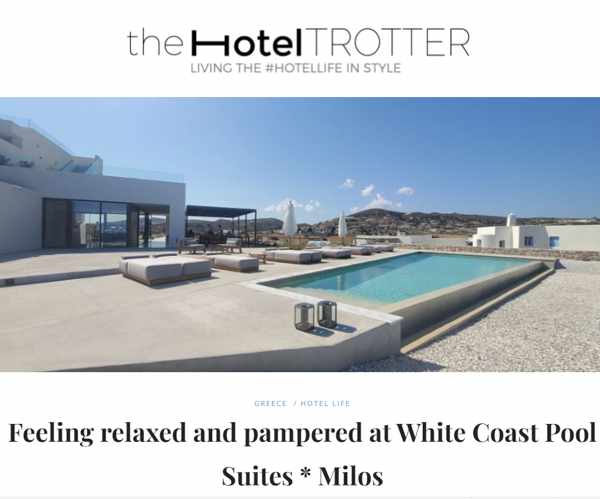 The Hotel Trotter says the White Coast Pool Suites embraces its guests in "an enchanting microcosm of haute bohemia."
Milos welcomed a second new luxury hotel in mid-June — White Coast Pool Suites — and it, too, swiftly grabbed the attention of international travel and hotel websites and publications.
Advance publicity included the Home Journal article White Coast Pool Suites set to open its door in June, and the Forbes magazine preview of 69 of the newest summer hotel openings around the world.  The French edition of Vanity Fair magazine also gave the hotel a thumbs-up in its report, Les hôtels qui nous font rêver au bords de la Méditerranée.
In the Travel + Style feature that we discussed earlier, White Coast ranked #1 on their list of 21 chic hotels on Milos.
Greek journalist Eleni Stasinopoulou spent several days at White Coast in July, and recounted her sumptuous experience in a profile published in The Hotel Trotter, a website focused "on stylish hotel moments around the globe."
Her article Feeling relaxed and pampered at White Coast Pool Suites Milos describes the boutique hotel as "an ultra-luxurious, adult-only accommodation that perfectly balances the island life in the raw with the high-end pampering," and notes it was "created to meet the high standards of the romantic jet setters of this world."
Stasinopoulou's piece also looks at the hotel's poolside restaurant, Bianco Drinks & Gastronomy.
Meanwhile, one of the hotel's first guests was Sabrina Chakici, who details her delightful experience there in the first clip posted in our Travel vlogger videos section, below.  She gives viewers a tour of her suite and private infinity pool, as well as the hotel restaurant and main swimming pool, starting at the 6:30 mark of her video.
— Travel vlogger videos —

Sabrina Chakici introduces viewers to Kleftiko, two beaches, Plaka and the brand-new White Coast Pool Suites
In June, London-based TV presenter and travel blogger Sabrina Chakici returned to Milos to spend a few days on what she calls her favourite Greek island as well as her favourite place in the whole world.
Her 12-minute video is titled after the newly-opened luxury hotel she stayed at, but she doesn't show it until the second half of her clip. During the first six  minutes, she takes a Polco Sailing excursion to Kleftiko, where she swims, snorkels and explores the sea caves where pirates once hid from sight. She then enjoys some seaside time at Fyriplaka and Agios Sostis beaches, and strolls through Plaka village. Over the final six minutes, she gives her audience glimpses of her hotel room and its private pool, and the hotel's stunning sea and sunset views.
On Sabrina's Instagram page, you can see Milos photos and videos that she posted between June 27 and July 4. There are more Milos pictures on Sabrina's Facebook page; look for her posts on June 30, July 1 to 4, and July 28 to see those.
Vloggers Tim & Fin travel to Milos to see first-hand why the island has become so popular
Full-time travellers and vloggers Tim & Finn spent four nights on Milos during their summer island-hopping trip, and compiled this 23-and-a-half minute video to let their 138,000 subscribers on YouTube judge if Milos might be the "best" island in all of Greece. With Sarakiniko beach providing an eye-catching backdrop, they introduce their destination by noting that Milos has become "super popular in travel blogs and with Instagrammers because of how photogenic this specific beach is." But they're quick to point out that Sarakiniko isn't the only Instagram-worthy place to see.
"This island is the queen of unique beaches," Fin notes, as the couple heads out to discover Papafragas, Tsigrado and Fyriplaka beaches, as well as the port town Adamantas, Plaka village and the colourful Klima seaside settlement. We think their video does a great job of capturing the awe-striking scenery just as it appears in person — there are jaw-dropping drone views, shots from on the ground and in the water (including their cliff jumping escapades at Sarakiniko), and on-the-road perspectives from the 125 cc scooter they rented to get around. One of our personal favourite moments in the clip is Tim and Finn's sunset-viewing experience from the mountainside church of Panagia Thalassitra at Plaka.
Tim and Fin also give viewers a quick tour of their squeaky-clean Airbnb accommodations (Villa Tasoula Sunrise Apartments near Papakinou beach), while Fin offers excellent tips and advice for people who might plan to visit Sarakiniko for some cliff jumping and swimming fun of their own.
There's more Milos photos and videos on the pair's various social media accounts:
Web links: Tim and Fin Travel
Blog: Tim + Fin Travel
Instagram: @Tim and Fin
YouTube: TIM and FIN
 The Other Side vloggers Ana and Ian show why "the Island of Colours" is the "most exotic island in Greece"
 American vloggers Ana and Ian paid a short visit to Milos at the 5-week mark of their 3-month-long tour through Greece, Turkey and Europe, and compiled this 14.5-minute clip to show their 105,000 YouTube channel subscribers why they consider Milos a "must-visit" Greek destination. 
They take viewers to three major beaches:  Fyriplaka  (which the couple calls "the best beach on Milos"), Tsigrado and Sarakiniko, as well as the island capital, Plaka village, where they enjoyed dinner and a sublime sunset.
The video shows some of the many "amazing things to do" on Milos and offers helpful travel tips and practical advice. There are breathtaking drone views of the incredible coast and landscape scenery, underwater and in-water footage captured while snorkeling at Fyriplaka and cliff-jumping at Tsigrado, views from their cute Fiat rental car, and scenes from their walkabout in Plaka.
Give it a watch to see why Ana said Milos "is so much better than Santorini" and has "some of the prettiest water we've ever seen."
Check out their social media pages for additional photos and videos from Milos, other places in Greece, and elsewhere in the world:
Website: The Other Side
Instagram: @The Other Side Vlog
YouTube: The Other Side
Zach and Ine from the World Wide Heart chose beaches, villages and an ancient cultural monument for their list of 10 best things to see on Milos
"Milos was our favorite island in Greece because it's just so relaxed and beautiful," say Zach and Ine, the peripatetic pair who explore extraordinary places around the globe on their World Wide Hearts travel vlog and website.
In October, they published this 13-minute video to highlight what they concluded are the 10 best things to see on Milos.
Not surprisingly, beaches grabbed the majority of spots on their Top 10 list, while three villages and a historic site rounded out their ranking.
Among their favourites was Papafragas, which boasts "one of the most unusual rock formations you'll see in your life."  The fishing settlement Klima also impressed as "one of the most beautiful spots to enjoy a sunset and a seafood dinner in the Greek islands." And Glaronisia Tavern in Tripiti got a shout-out for its stunning sea views and "some of the tastiest food on the entire island."
We really liked this video for its aerial drone views and other unique perspectives, particularly of the Papafragas rock formations and caves, and the sunset views from the kastro above Plaka.
We won't give away what Zach and Ine selected as their #1 place to see — you'll have to watch their clip to find out. But we'll give you a hint: Zach says it "has a perfect mix of adventure, peacefulness and natural beauty."
They also offer a great piece of practical advice about the best type of vehicle to rent for moving easily around the island.
You can find more photos and information on their website and social media pages at the following links:
Website: World Wide Hearts
Instagram: @World Wide Hearts
Facebook: World Wide Hearts
YouTube: World Wide Hearts
Dana Berez recaps a 5-day visit to breathtaking beaches, restaurants and a winery
We suggest you grab a coffee, glass of wine or other beverage to enjoy while you watch this video by travel and lifestyle vlogger Dana Berez — it's a 45-minute-long tour to remarkable beaches, coastal areas and other lovely locations on Milos.
The film follows Dana during a 5-day visit, during which she stayed at Kostantakis Winery and Residences in Pollonia. You'll see her accommodations and join her at the winery for a wine tasting and vineyard stroll, and you get to tag along for her dinners at Yialos and Akrotiri restaurants in Pollonia, a lunch at Medusa, and a dinner at Glaronisia taverna in Tripiti.  Daytime outings include stops at Papafragas, Firopotamos, Tsigrado and Fyriplaka beaches and Mandraki village, while there are sunset visits to Sarakiniko and Plaka, and an evening stroll along the Pollonia harbourfront.
However, the highlight of Dana's trip was a Polco Sailing boat tour that departed from Paleochori and made stops at Kalamos beach, Gerontas beach, and what Dana describes as the "crown jewel" of the day-long excursion, Kleftiko.
You can see more video and photos of Milos in posts shared between September 7 and 12 on Dana's Instagram page, while you can find Milos travel and beach guides on her website.
Virtual Trip takes viewers on short walkabouts at the seafront of Pollonia village (top),  in the port town of Adamas (center) and at the island capital, Plaka
If you haven't been to Milos yet, these three videos from the Virtual Trip channel on YouTube will give you a good idea of what you can expect to see in the main port town of Adamas, as well as in the villages of Pollonia and Plaka.
The 3-minute Pollonia clip provides views of the village's seafront and beach areas, while the 4-minute Adamas video takes a wander through some of the town streets and along the harbourside. The Plaka film clocks in at nearly seven minutes, and shows street scenes as well as some of the wonderful views from various vantage points in the mountaintop village.
Earth Sound Walks makes you feel like you are taking your own scenic 26-minute stroll through Plaka
The island capital and highest-situated village, Plaka, is a must-see for visitors, and is routinely recommended as one of the best places to watch the sunset.
Watching this video will give you an excellent sense of what it's like to wander around the village lanes, especially if you wear headphones to listen to the soundtrack. There's no narration — just the sounds of people walking, talking, dining and exploring Plaka. For descriptions of what you're seeing, and other information about the village, be sure to turn on the subtitles/closed captions.
We stayed in Plaka for four nights during our second trip to Milos in 2011, and this clip stoked many good memories of our own meanderings in the area. It made us feel like we were right back there, exploring all over again.
  A 36-minute trek with Earth Sound Walks on the other-worldly white rock landscapes at Sarakiniko
This second video from the Earth Sound Walks channel on YouTube will take you on another intriguing stroll, this time along the fascinating rock formations at the Sarakiniko coast. Again, there's no narration — simply the sounds of nature and the videographers stepping along the undulating stone landscape. Make certain to turn on the subtitles/closed caption setting so you can read the background information that accompanies the visuals.
 Παρασκευας Καρβουνιαρης captured drone views of Milos scenery
In early 2021, videographer Παρασκευας Καρβουνιαρης created these short drone videos of some of the top sights and attractions on Milos.
The first film runs for just 3.5 minutes and offers aerial views of the port town Adamantas, three of the island's most famous beaches and coast areas (Fyriplaka, Tsigrado, and Sarakiniko), and the fishing settlement and beach at Firopotamos.
Attractions in the second video include Gerontas beach, the Ancient Theatre, the sulphur mine at Thiorichia beach, a whitewashed chapel on the slopes below Plaka, the fishing settlements Klima and Mandrakia, undersea views of the Sarakiniko shipwreck, the Sarakiniko coast, Pollonia village, and more. The  beneath-the-waves footage of the rusty shipwreck near Sarakiniko is unique; we can't recall ever seeing scuba diving or snorkeling films of the wreck anywhere else.
In Milos, filmmaker Roman Palii and his drone fly you above exhilarating coastal locations you won't see in other Milos travel videos
Last but definitely not least, we leave you with a terrific cinematic travel video created by Roman Palii from the YouTube channel Drone 'N' Travel. He published his film in the autumn of 2020, but since it displays exhilarating views of picturesque places and superlative scenery that weren't mentioned or shown in any of the other videos or photos from 2021 that we've included in this post, we simply had to add it for your viewing pleasure.
Besides his awe-striking aerial views of Plaka, Tripiti, Klima, Firopotamos, Tsigrado, Mandrakia, and Sarakiniko, Palii flies you to Fourkovouni, Areti, the coast near Nerodafni beach, Paparodi beach, the sulphur mine at Theiafes, the caves at Papafragas and the tunnels beneath Sarakiniko. It's a truly spectacular 3.5-minute tour!