Plans to prioritise coronavirus tests and put NHS staff at the top of the list will be published in the coming days, the justice secretary has said.
People in care homes would also be a priority, while schools would also be considered, Robert Buckland said.
Resolving delays with testing was "the number one issue", he added.
It comes as the mayor of Greater Manchester – home to England's highest infection rate – said time was running out to fix the testing system.
"I think we have two or three weeks to fix these things," mayor Andy Burnham, whose region has England's highest infection rate, told the BBC's Newsnight programme. "If we don't, the worry is we'll never gain control as we head into autumn and winter."
Bolton NHS Trust in Greater Manchester said on Tuesday that around 100 people had turned up to accident and emergency asking for a test.
Mr Burnham called on the government to work with local authorities to establish where there are shortages and where capacity should be focused.
Speaking to BBC Breakfast, Mr Buckland said the government would "do whatever it takes to make sure we have that capacity" and there was a "big determination within government" to improve the system and minimise disruption.
He said testing centres would be increasing from about 400 to 500 in the next few weeks and the government was opening laboratories "across the country".
As well as prioritising tests for the NHS and social care, he said schools were also important because of its "knock-on effect to the working lives of parents and carers".
Health Secretary Matt Hancock will announce who will be prioritised for tests in the coming days.
Why are there delays?
A surge in demand for coronavirus tests has led to local shortages, with many people reporting problems securing online bookings and being directed to test sites hundreds of miles from home.
The large Lighthouse laboratories, run by the government to analyse test swabs from all the UK nations, have been under strain to process them all.
Test slots are limited because, while there seem to be enough testing sites, there are bottlenecks in labs for processing swabs, BBC health editor Hugh Pym said.
A new lab is due to be up and running but that could be a few weeks away – and until then ministers say current problems are likely to continue.
On Wednesday, Mr Buckland said 90% of tests done in person were being returned in a day but "there was much more work to do" to turn around home tests.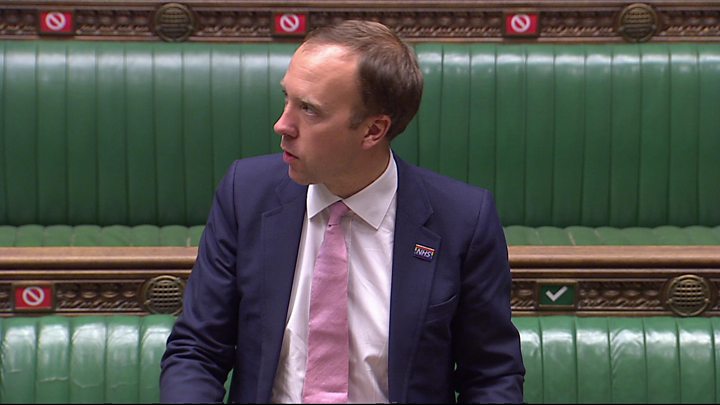 Mr Hancock, speaking in the House of Commons on Tuesday, said: "Over the summer, when demand was low, we were able to meet all requirements for testing, whether priorities or not.
"But as demand has risen, so we are having to prioritise once again and I do not shirk from decisions about prioritisation. They are not always comfortable, but they are important."
Mr Hancock added: "The top priority is and always has been acute clinical care. The next priority is social care, where we're now sending over 100,000 tests a day because we've all seen the risks this virus poses in care homes.
Data on backlogs in labs is not publicly available, but Mr Hancock said it was "less than a day's capacity". That means it could be anywhere up to 244,000.
The Department of Health has said about a quarter of people requesting tests have no need to do so – and only those with relevant symptoms should book.
Prof Donna Hall, chairwoman of Bolton NHS Foundation Trust, said people in the town, which has the highest infection rate in England – had been trying to get tests via their GPs and the hospital after being unable to get tests online or at mobile testing units.
She told BBC Radio Four's The World Tonight: "We had 100 people in our accident and emergency unit today, five ambulances queuing outside. This failure of the test and trace system is placing huge pressure on the NHS and social care."
The people struggling to get a test
Scott Vining's daughter fell ill with a temperature on Saturday. By Sunday, the rest of the family, who live near Dunstable, in Bedfordshire, had also developed symptoms.
"We've tried hundreds of times," he told the BBC about trying to book a test. "We started to try and book tests for my daughter on Sunday, to no avail, and then we started at 08:00 on Monday morning for us all."
'How am I supposed to get my family of eight tested?'
At one point Scott was offered a test in Warwickshire, 65 miles away from his home, through the government website. But by the time he'd entered the details of his family of four, the spaces had disappeared.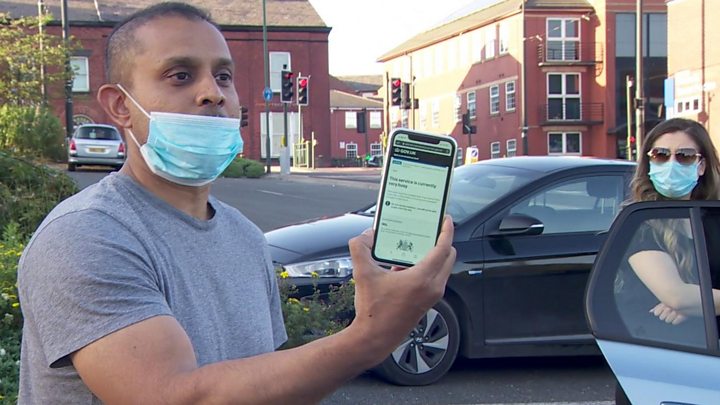 Maria Aziz, from west London, has been trying to book a test since Sunday, when her nine-year-old daughter, Mishal, complained of a sore throat. By 04:00 Monday, her daughter had developed a fever.
She said she had spent three days trying and failing to book a test. Her eldest daughter, Eimann, 14, also had to be withdrawn from school while she tried to book a test for her younger daughter.
"I'm trying through the government website and then yesterday there was also a number on the website to call – 119 – so I tried that as well. Each time there were no tests available. No home kits. No walk-in slots. No drive-through slots. Nothing."
How many tests are being carried out?
Around 220,000 tests are processed each day, according to government figures for Monday.
The government said its UK laboratory daily testing capacity was more than 370,000 as of last week – which includes antibody tests and those tests used by scientists to estimate how widespread the virus is.
Testing capacity (excluding antibody tests and virus spread testing) is about 245,000 a day.
Government data shows that both testing capacity and laboratory capacity have increased considerably since the beginning of the pandemic.
However, there has been a sizeable gap between how many tests labs are able to process ("capacity") and the number of tests actually processed.
The government aim is to increase capacity to 500,000 a day by the end of October.
Analysis from Our World In Data, a research team based at the University of Oxford, suggests the UK is now performing more tests than many other countries.
For example, the seven-day average up until 10 September showed the UK had carried out 2.8 tests per 1,000 people. This was ahead of European countries including France (2.1) and Spain and Germany (both 1.8).
TASTE AND SMELL: How are they connected?
RETURN TO FILMING: How has filming EastEnders changed?