The United States is completely failing at the federal level to control this epidemic. It's a tragedy. We're losing tens of thousands of lives unnecessarily because of the shambolic failure of Trump and his team to mobilize the vast resources of our country, both human and material. At the same time, there are poor countries that are doing much, much better at controlling the epidemic. Take a country like Vietnam, which is a low-income country in East Asia, and close to China, but for a variety of reasons they acted very quickly to stop the transmission of the virus, to a much greater extent than we did. They also don't have the means for mass testing and so on. At least to date, they have been able to keep the epidemic more under control through public-health means, which is identifying potentially sick people, helping them to isolate, tracing their contacts, helping those people to isolate, and so on.
The question nobody is asking: Does the United States have the operational capability to mobilize, no matter the party in charge?
Stats Watch
At reader request, I added some business stats back in. Please give Econintersect click-throughs; they're a good, old-school blog that covers more than stats. If anybody knows of other aggregators, please contact me at the email address below.
Employment Situation: "18 April 2020 Initial Unemployment Claims 4,427,000 This Week" [Econintersect]. "[E]xpectations for weekly initial unemployment claims (from Econoday) were 3000 K to 4545 K (consensus 4,000 K), and the Department of Labor reported 4,427,000 new claims. The more important (because of the volatility in the weekly reported claims and seasonality errors in adjusting the data) 4 week moving average moved from 5,506,500 (reported last week as 5,508,500) to 5,786,500… The pandemic has so far caused a 26,453,000 job loss. Claim levels before the coronavirus pandemic were at 40-year lows." • That seems like rather a lot.
Employment Situation: "Millions of workers who applied for jobless benefits due to coronavirus still not getting money" [MarketWatch]. "In the seven days ended April 11, the number of people who filed initial jobless claims since the viral outbreak shut down large parts of the economy soared by 20 million in raw or actual numbers though seasonally adjusted figures are several million higher still. Of those new applications, about 14 million have been approved for benefits based on data from the U.S. Labor Department known as continuing claims. They are reported one-week behind the latest government estimate of new jobless claims…. It will probably take another month or so to determine just how many people have actually been rejected for benefits once the torrent of new claims recedes. Many states have fallen behind in processing the rush of new claims as they grapple with outdated computer systems and new eligibility standards….. 'State unemployment offices are not set up to handle this sort of volume of claims coming through all at once, especially after a multi-year period where claims were at their lowest levels in decades,' said Thomas Simons, money market economist at Jefferies."
Employment Situation: "GOP Governors Will Push Workers off Unemployment by Reopening Early" [Vice]. "Republican governors in states like Georgia, Tennessee, and South Carolina have announced plans to begin reopening their states' economies despite warnings by health officials that it's too early to do so. The decisions mean that businesses may soon start calling people back into work before they feel safe, creating a coronavirus-specific dilemma: If people in those states are offered their jobs back, but refuse to take them out of fear for their safety, they will likely no longer qualify for unemployment benefits—even though they're taking the same precautions as people one state over." • Nice!
* * *
Commodities: "[Kimberly-Clark] is overhauling its massive toilet-paper operations to meet the soaring demand fueled by the coronavirus pandemic… in a move aimed at the highest-profile item consumers have been stockpiling under the increasingly testy lockdown restrictions" [Wall Street Journal]. "The move to get more bathroom tissue to homes is part of the broader and often difficult shift in supply chains to meet the market upheaval. Toilet paper is one of the many consumer products moving in two separate channels, with production aimed at businesses distinct from goods marketed in stores. Kimberly-Clark says it is now retooling its manufacturing to make more consumer-quality products, including sourcing higher-grade pulp."
The Bezzle: "Is this the end of Airbnb?" [Wired UK]. "Hosts are calling it the Airbnb apocalypse. But it's more akin to an enema. Airbnb maintains that it's 'powered by local hosts', but the reality is quite different. Yes, there are many hosts on Airbnb who live in the properties they list on the platform. But, in many markets, including the entire of the United States, the number of 'professional' hosts seemingly outnumbers those listing on Airbnb to earn a bit of extra cash from their cosy spare room. According GlobalData, an analytics firm, Airbnb could lose a 'significant portion' of its host community as a result of the pandemic. These 'professional' hosts, the scourge of local residents and housing officials, could soon be flushed out of Airbnb in their thousands." • What a shame it would be if a regulatory arbitrage play didn't work.
The Bezzle: "Airbnb Is Banking on a Post-Pandemic Travel Boom" [Bloomberg]. "When guests demanded to be let out of their reservations, [Airbnb Chief Executive Officer Brian Chesky] hesitated but eventually complied, ordering hosts to distribute refunds. That placated guests, but it enraged hosts, who complained the new policy would cause them to default on their mortgages. Chesky responded by creating a $250 million fund to help reimburse them. Not all hosts were satisfied by the gesture, which gives them a small fraction of what they would have originally made and does nothing to address the underlying issue: how the company will find customers willing to stay in other people's homes after all this." • After #COVID19, why would anybody want to say in lodgings that weren't professionally cleaned?
Tech: "Apple Aims to Sell Macs With Its Own Chips Starting in 2021" [Bloomberg]. "Despite a unified chip design, Macs will still run the macOS operating system, rather than the iOS software of the iPhone and iPad." • Thank God. iOS isn't suitable for a productivity tool. More: "Apple is exploring tools that will ensure apps developed for older Intel-based Macs still work on the new machines." • Oh, good.
Supply chain: "Efforts to ramp up coronavirus testing programs in various states are running up against a thicket of parts shortages across medical supply chains. The private sector hasn't been able to deliver nearly enough tests to meet the huge demand in the U.S…. more than six weeks after the Food and Drug Administration allowed private companies to manufacture test kits and use them without needing approval" [Wall Street Journal]. "Experts say the problems are partly because of the lack of central direction, leaving officials in states to sort out procurement and distribution while individual labs are vying for supplies in a fractured and exhausted marketplace. One marquee effort involving Abbott Laboratories quickly ran into the supply-chain issues that have plagued the testing buildup, with state officials saying they couldn't easily obtain enough of Abbott's single-use cartridges to actually test patients." • I have seen
Today's Fear & Greed Index: 40 Fear (previous close: 40 Neutral) [CNN]. One week ago: 41 (Fear). (0 is Extreme Fear; 100 is Extreme Greed). Last updated Apr 22 at 12:24pm.
The Biosphere
"USGS releases first-ever comprehensive geologic map of the Moon" [Phys.org]. "The lunar map, called the "Unified Geologic Map of the Moon," will serve as the definitive blueprint of the moon's surface geology for future human missions and will be invaluable for the international scientific community, educators and the public-at-large. The digital map is available online now and shows the moon's geology in incredible detail (1:5,000,000 scale)." • Here it is:
Health Care
"Hydroxychloroquine sparks renewed controversy but clinical trials are pushing ahead" [MarlketWatch]. I hate this whole controversy, partly because a potential treatment is now subject to our tribal politics, and partly because feeding The World's Greatest Troll™ is good only for generating clicks. For what it's worth, here is what Trump actually said:
"I hope it works," Trump said April 8 during a news conference. Five days later, he said, "just recently a friend of mine told me he got better because of the use of that drug. So, who knows? depending on your doctor's recommendation, and he's having some very good results. I'll tell you, I think if anybody recommended it other than me, it would be used all over the place…a lot of good things are happening with it, a lot of good tests."
Trump's incorrigible puffery and its subsequent profitable amplification aside, any studies that don't use that protocol (i.e., don't combine hydroxychloroquine with Z-Pak and zinc) aren't on point. (Trump even caveats "doctor's recommendation" so all the "ZOMG!!!!! Dosage!!!! hysteria is off point, too). That said:
[A] number of clinical trials are under way in the U.S. to evaluate the drug's safety and efficacy in COVID-19 patients, including a randomized, double-blind, placebo-controlled study announced this week by Novartis NVS, +0.35%, one of the world's largest drugmakers…. In total, there are more than 100 trials under way worldwide evaluating chloroquine or hydroxychloroquine in COVID-19 patients or to prevent COVID-19 infections, according to ClinicalTrials.gov, including at least one sponsored by the National Institute of Allergy and Infectious Diseases.
Needless to say, we should all be praying (or rooting for) for the success of these trials, even if Orange Man Bad, not least because hydroxychloroquine is cheap and off-patent ffs.
"A mysterious blood-clotting complication is killing coronavirus patients" [CNN]. "A Dutch study published April 10 in the journal Thrombosis Research provided more evidence the issue is widespread, finding that among 184 COVID-19 patients in an intensive care unit, 38% had blood that clotted abnormally. The researchers called it "a conservative estimation" because many of the patients were still hospitalized and at risk of further complications…. While acute respiratory distress syndrome, or ARDS, still appears to be the leading cause of death in COVID-19 patients, blood complications are not far behind, said Behnood Bikdeli, a fourth-year-fellow at Columbia University Irving Medical Center, who helped anchor a paper about the blood clots in the Journal of The American College of Cardiology." • CNN seems to be pushing this blood clotting issue, for what that's worth. So I put this out there, and will await the clinical research….
"Covid-19 causes sudden strokes in young adults, doctors say" [CNN]. "Dr. Thomas Oxley, a neurosurgeon at Mount Sinai Health System in New York, and colleagues gave details of five people they treated. All were under the age of 50, and all had either mild symptoms of Covid-19 infection or no symptoms at all. 'The virus seems to be causing increased clotting in the large arteries, leading to severe stroke," Oxley told CNN. 'Our report shows a seven-fold increase in incidence of sudden stroke in young patients during the past two weeks. Most of these patients have no past medical history and were at home with either mild symptoms (or in two cases, no symptoms) of Covid,' he added. 'All tested positive. Two of them delayed calling an ambulance.' Other doctors have also reported that people are reluctant to call 911 or go to emergency rooms because of the pandemic. It is not common for people so young to have strokes, especially strokes in the large vessels in the brain." • They're reluctant to call the ambulance because they don't have any, and they're reluctant to go to the ER because they don't want to be slapped with an enormous surprise bill for out-of-network services.
Games
"$1 Billion Video-Game Coaching Business Ramps Up During Lockdown" [Bloomberg]. "Video-game competitors in search of a tuneup need not worry. There is no shortage of coaches standing by online ready to tweak their virtual shooting form. Between December and March, as a growing number of businesses and schools shut down across the country, the amount of time people spent playing popular shooter games nearly doubled, according to researcher Newzoo. Now, with gameplay on the rise, so too are the billable hours of video-game gurus. Fiverr.com, an online marketplace, saw a 43% jump in the number of video-game coaching sessions booked between January and March. According to the company, instruction geared towards Fortnite and Rainbow Six Siege was especially popular." • Not my world, but if any of you out there aspire to be a games coach, now is the time!
"Tales From The Dork Web #7" [The Dork Web]. "A whole subculture of computer Role Playing Games is out there on The Dork Web. These games don't need high end graphics cards. In fact the graphics are often downright crude. What they lose in graphics they make up for in gameplay and depth. For those who've never tried Roguelike games I'll show you where to start. If like me, you've played a few, there's a few games here you might want to try…. The term 'Roguelike' is used as a catchall term for games that share aspects with an RPG game called Rogue. You might think that the game Rogue was the first Roguelike. This isn't strictly true. The name stuck during Usenet discussions on games like NetHack, Rogue, and Angband. The definition of roguelike was officially set at a 2008 Conference in Berlin. Of course not everyone agrees. The Rogue Temple discusses the term's history in depth." • Excellent subhead: "Where we're going, we don't need GPUs." America! F*** Yeah!
Class Warfare
Guillotine Watch
"People Are Finally Starting to See the Real Ellen DeGeneres and It Isn't Pretty" [Daily Beast]. "And in a timely moment of worker outcry, the latest DeGeneres PR crash has come from her very own crew, who have been replaced by a non-union outfit that is running tech for DeGeneres' at-home broadcast. Crew members spoke anonymously to Variety about the poor communication and shady side-dealing they've experienced as Ellen has shifted from studio broadcast to a more intimate lockdown-friendly format. Even though the unionized Ellen crew has the chops to transition to the at-home broadcasts, DeGeneres' team made the decision to hire from outside, and are even planning to cut pay by 60 percent for the regular crew, who have already experienced reduced hours." • But wait. I thought DeGeneres was part of the #Resistance?
"My Husband and I Want to Have Another Baby. The Pandemic Has Disrupted Our Plans" [Time]. "I acknowledge that having children five years apart rather than three—if we are fortunate enough to have another—is, in the greater context of today's crisis, a privileged problem to have. Still, I am giving myself space to feel the loss of the family life that I had envisioned."
News of the Wired
"The Pandemic Financial Terms You Should Know Right Now" [Bloomberg]. For example: "Forbearance: If you lose the battle to invoke force majeure, you can ask for forbearance, which is when a lender agrees to go easy on an overdue borrower. The lender isn't just being nice; in a crisis like this, it has no interest in forcing thousands of borrowers into bankruptcy and assuming ownership of their devalued houses and cars. Even the Federal Reserve is urging lenders to be "responsive to the needs of low- and moderate-income individuals, small businesses, and small farms affected by Covid-19 consistent with safe and sound banking practices."
"The reason Zoom calls drain your energy" [BBC]. "Being on a video call requires more focus than a face-to-face chat, says Petriglieri. Video chats mean we need to work harder to process non-verbal cues like facial expressions, the tone and pitch of the voice, and body language; paying more attention to these consumes a lot of energy. "Our minds are together when our bodies feel we're not. That dissonance, which causes people to have conflicting feelings, is exhausting. You cannot relax into the conversation naturally," he says. Delays on phone or conferencing systems of 1.2 seconds made people perceive the responder as less friendly or focused. Silence is another challenge, he adds. 'Silence creates a natural rhythm in a real-life conversation. However, when it happens in a video call, you became anxious about the technology.' It also makes people uncomfortable. One 2014 study by German academics showed that delays on phone or conferencing systems shaped our views of people negatively: even delays of 1.2 seconds made people perceive the responder as less friendly or focused. An added factor, says Shuffler, is that if we are physically on camera, we are very aware of being watched. "
* * *
Readers, feel free to contact me at lambert [UNDERSCORE] strether [DOT] corrente [AT] yahoo [DOT] com, with (a) links, and even better (b) sources I should curate regularly, (c) how to send me a check if you are allergic to PayPal, and (d) to find out how to send me images of plants. Vegetables are fine! Fungi and coral are deemed to be honorary plants! If you want your handle to appear as a credit, please place it at the start of your mail in parentheses: (thus). Otherwise, I will anonymize by using your initials. See the previous Water Cooler (with plant) here. Today's plant (Carla):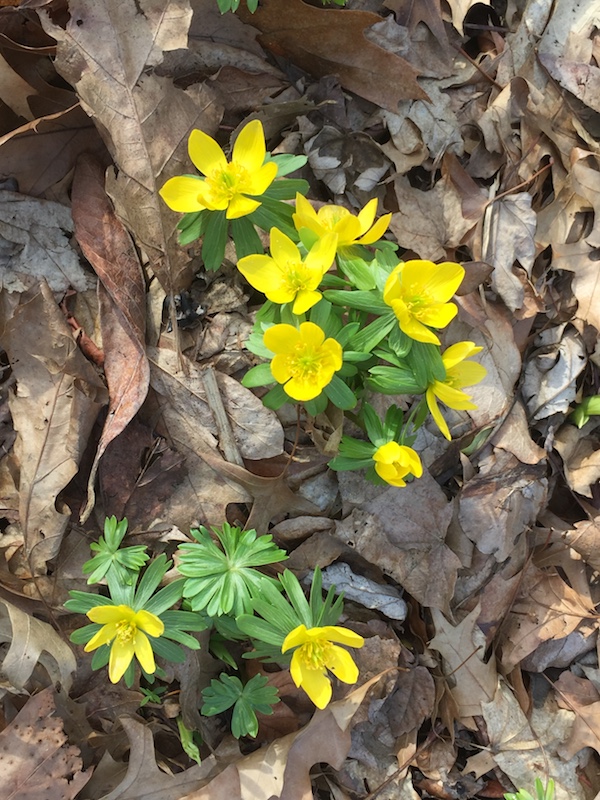 Carla writes: "NE Ohio, first week of March 2020. First flowers of spring here: winter aconite." Again, my favorite mulch.
* * *
Readers
: Water Cooler is a standalone entity
not
covered by the annual NC fundraiser. So if you see a link you especially like, or an item you wouldn't see anywhere else, please do not hesitate to express your appreciation in tangible form. Remember, a tip jar is for tipping!
Regular positive feedback both makes me feel good and lets me know I'm on the right track with coverage
. When I get no donations for five or ten days I get worried. More tangibly, a constant trickle of donations helps me with expenses, and I factor in that trickle when setting fundraising goals:
Here is the screen that will appear, which I have helpfully annotated.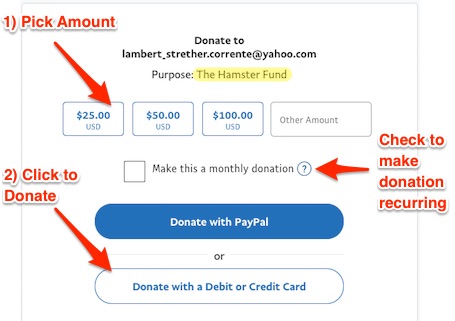 If you hate PayPal, you can email me at lambert [UNDERSCORE] strether [DOT] corrente [AT] yahoo [DOT] com, and I will give you directions on how to send a check. Thank you!